Thiaw sale to AC Milan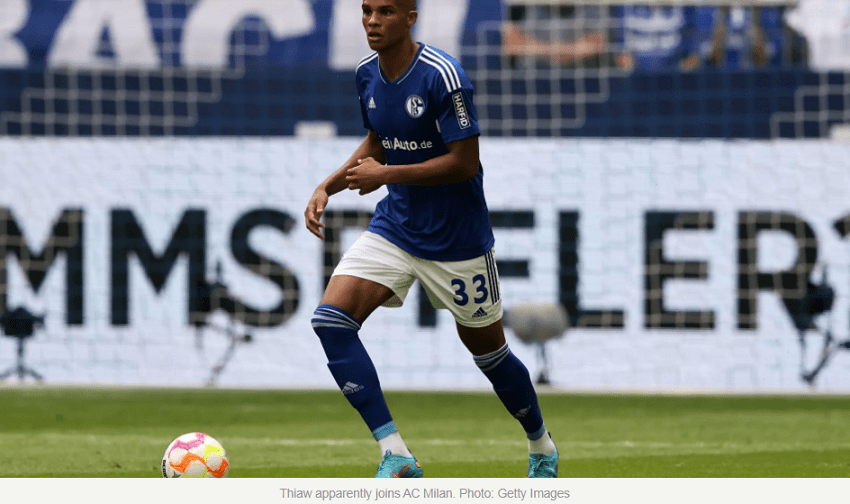 FC Schalke 04 really got their act together on Saturday for the first time since they were promoted back to the Bundesliga. The Royal Blues' defense was not up to par in the 6-1 loss to Union Berlin, and Malick Thiaw also had a weak day. It was arguably the worst possible way to say goodbye for the U21 international as he faces a move to AC Milan.
This was reported late on Saturday evening by Italian transfer insider Gianluca di Marzio and WAZ , among others . The defender is said to be traveling to Lombardy on Sunday, and he is expected to sign a long-term contract with the Italian champions on Monday. Thiaw's departure comes as no surprise, as the talented defender has been seen as a potential sell-off to fill the tight coffers for months. However, Schalke does not seem to collect a large sum at first.
Change Failed in the Winter
According to reports, the transfer fee will be in the mid-seven-digit range. However, S04 will secure industry-standard bonus payments for success, with which the total should grow to the desired eight-digit amount over time. Thiaw was already on Milan's note in winter, at the time the transfer failed due to an agreement between the clubs. That has now probably been achieved, so that after six years at the club and 61 competitive games for the professional team, the homegrown player takes the much-cited next step.
In any case, Schröder will get a replacement
As the WAZ writes, Rouven Schröder will definitely attract a replacement for Thiaw to Gelsenkirchen. The sports director already indicated that a week ago. "I think it's part of management that you think a lot of things in the left and right corner, straight ahead and backwards," he was quoted as saying by the regional newspaper. In addition to Maya Yoshida and Marcin Kaminski, Schalke only have the inexperienced Leo Greiml and Ibrahima Cisse available for central defense following the departure of Thiaw.